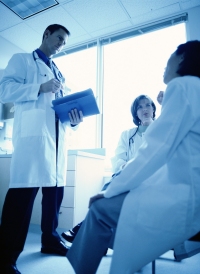 Peter Viccellio, MD, still remembers the day, month and year when he had an epiphany that changed his hospital.
Despite statistics showing that hospitalists are the nation's fastest-growing medical specialty-the Society of Hospital Medicine estimates that the current pool of 15,000 U.S.-based hospitalists will double by 2010-recruiting and retention remain major challenges.
The decisions made by hospital staff in the first few minutes following an acute myocardial infarction (MI) often determine whether a patient lives or dies.
A 53-year-old obese man is admitted to the hospital with the acute coronary syndrome... and other cases.