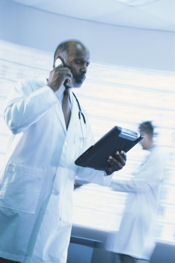 When Oklahoma Heart Hospital opened in August 2002 in Oklahoma City, it didn't take long for nearby community hospital Baptist Medical Center to realize it needed to make some changes to offset the loss of patients. But new government and state regulations will mean changes in the specialty hospital workplace in the coming months and years.
In early July, CMS released proposed changes to Medicare physician payments for 2008.
Campaign advances care for home health patients.
Protocols and preparation are key.
Rashida A. Khakoo, MACP, honored for work in medical education.
The patient is dying. More medical intervention is futile. But the family, speaking for their loved one, still wants everything done.
End-of-life considerations for incapacitated patients without surrogates.
A 72-year-old, 90-kg (198-lb) woman who lives in an assisted living facility is evaluated after 10 days in the intensive care unit. She was admitted with severe urosepsis... and other cases.
Recent studies about postoperative VTE risk, preoperative hematocrit, and other topics.