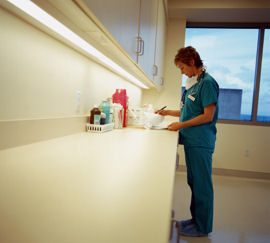 When the Accreditation Council for Graduate Medical Education decided in 2003 to limit residents' work to 80 hours per week, opponents said that the change would be a disaster for hospital medicine. But while the ruling has presented staffing challenges, patients have not suffered and hospitalists are in higher demand than ever on the job market.
Experts from all areas of health care met in Philadelphia in July to discuss ways to improve transitions of care.
Legislators look for equality with insurance for physical ailments.
Lee W. Roof, ACP Member, a primary care internist, and Dawn Brezina, ACP Member, a hospitalist, offer their perspectives on how hospitalists and PCPs can improve communication during handoffs at discharge.
One expert offers tips on sorting the good from the bad.
Form ensures dying patients' wishes are carried out as medical orders.
Elisabeth Paice, FRCP, describes efforts to improve training in the U.KElisabeth Paice, FRCP, describes efforts to improve training in the U.K.
Knowing what to look for is one key to determining risk.
Nearly 20 years ago, Arnold P. Gold, MD, a pediatric neurologist, and his wife, Sandra O. Gold, EdD, a psychologist, created the Arnold P.
An excerpt taken from Pulmonary Disorders of the Elderly, a new publication from ACP.
A 60-year-old man undergoes preoperative evaluation before total hip replacement surgery... and other cases.
Recent studies about spirometry for COPD, as-needed relaparotomy, and other topics.