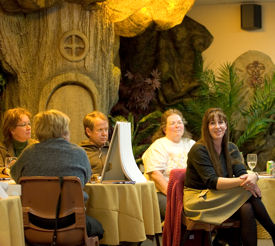 When former hospitalist M. Bridget Duffy, MD, became chief experience officer at the Cleveland Clinic last year, she explored every aspect of the hospital's operation and set out to improve it. The changes instituted by her office of patient experience are making the Cleveland Clinic look and feel more like part of a very customer-service-oriented industry. That's no coincidence, say experts.
Does your hospital have free wireless Internet in waiting areas, or offer patients aromatherapy and massages?.
ACC/AHA Task Force updates STEMI and PCI guidelines .
Billing Medicare based on time and revised rules on verbal orders.
Expert analysis: Woman with recent stroke and a patent foramen ovale.
Exotic travel trend poses new challenges for hospitalists.
Virtual patients expose students and physicians to a wide range of clinical scenarios.
Recent studies about perioperative consultation, increased U.S. staph infections, and other topics.