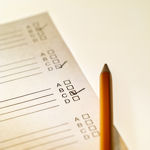 Striving for 100% customer satisfaction As patient satisfaction figures more prominently in health care and quality measurement, some worry that hospitals' standard patient satisfaction surveys don't accurately measure hospitalist care. How should hospitalists prepare for future use of satisfaction data?.
There's been more talk than ever lately about patient satisfaction, due in part to CMS's recent inclusion of patient satisfaction data on its Hospital Compare Web site.
Letters to the Editor Readers respond to CAM, alternative scheduling.
Report: Many elderly take inappropriate prescription drugs.
As pharmacists monitored hospital supplies, physicians and nurses monitored patients.
An expert offers tips on finding the right insulin combination.
Less can be more for the hospitalized elderly.
New research could help guide treatment.
Investing in hospitalist programs now can pay off later.
Physicians debate dilemmas posed by the war on terror.
Drug alerts, recalls, approvals.
Swap innovation ideas online.
Recent studies about antipsychotic use in the elderly, heart failure hospitalizations, and other topics.