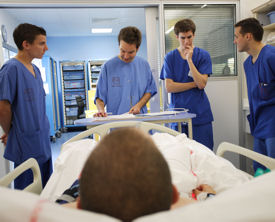 Antimicrobial stewardship teams ramp up the fight against "superbugs." The battle with drug-resistant bacteria has evolved into an all-out war in many hospitals, and fighting back with newer drugs no longer seems like the best defensive strategy. Instead, hospitals are deploying multidisciplinary teams to spread the word about prevention through judicious use of antibiotics.
Overprescribing of antibiotics is often cited as a chief culprit behind the rising threat of "superbugâ€ï¿½ infections, such as Methicillin-resistant Staphylococcus aureus (MRSA) and Clostridium difficile.
Key to halting cognitive decline is recognizing red flags and acting early. Delirium in hospitalized patients, including those with dementia, can be prevented in most cases if hospital staff is trained to recognize symptoms and act quickly.
Hospitalization is a risk factor for falls, but also an opportunity for prevention. Recent research suggests that hospitalization is a risk factor for post-discharge fracture in elderly patients, prompting some hospitalists to consider what measures they can take to reduce fracture risk before these patients leave the hospital.
An expert summarizes best practices.
Jeffrey Cohn, ACP Member, told us about a case he had seen as a hematology/oncology fellow while at Emory University.
In accordance with a law passed by Congress late in 2006, physicians and other eligible professionals are able to receive bonus payments of 1.5% of their total allowed Medicare charges, subject to a cap, by submitting information for defined quality measures.
A computer crash prompts reflection on EHRs.
January's winning caption.
The hits keep coming on ACP Internist's blog, launched last May. Daily updates provide readers with the latest news relevant to internal and hospital medicine.
Specific documentation helps optimize payments for heart failure.
Recalls, warnings, and approvals.
A 75-year-old woman with a long history of chronic obstructive pulmonary disease is evaluated in the intensive care unit for delirium... and other cases.
Recent studies about C. diff. infections, antibiotic use at teaching hospitals, and other topics.
IOM favors more limits on resident hours, and other medical updates.