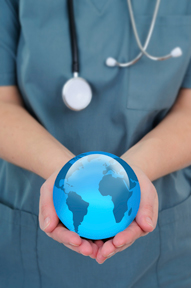 More physicians are focusing on a particular country, and frequently a particular hospital, to bring about lasting change.
Recent research may change practice nationwide.
Medicare payment penalties have helped spur the industry's growth.
Pain, blood pressure, and transfusions are among the topics covered.
A study suggests that hospitals develop a policy about when and how to use smartphones at work.
Rochester General Hospital in New York used a team approach to reduce noise throughout the facility.
Acute chest pain, acute coronary syndrome, acute myocardial infarction and bronchospastic conditions are discussed.
A resident reflects on the importance of his peers to the learning process##mdash;guiding, helping and supporting one another.
This issue features stories on global health, catheter-related infections, and postdischarge transitions, among others.
You start your morning rounds. You will spend the next 12 hours here. This is your world. And you are the center of it.
These cases and commentary, which address perioperative care, are excerpted from ACP's Medical Knowledge Self-Assessment Program (MKSAP16).
Details on recalls, warnings and approvals.
Organ failure in the ICU, non-cardiac surgery after stents and more.
Ordering and interpreting troponin tests, plus monitoring acetaminophen doses in hospitalized patients.