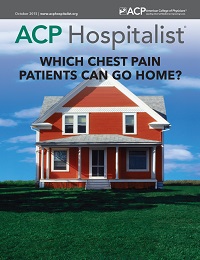 Research on risk algorithms and tests helping to identify unnecessary hospitalizations.
Hospitals working to improve resources, education, and training for transgender care.
Updated criteria, expert advice on when to suspect Middle East respiratory syndrome.
High-flow oxygen gaining ground in adult ICUs.
More hospitals requiring flu shots for health care workers.
Morning Report, a new feature, discusses the clinical and administrative aspects of a fictional but realistic hospital case from admission to discharge.
A 528-bed acute care hospital reduced C. diff rates by 53% over 2 years.
An expert discusses new collaborative recommendations.
Depression, sepsis, respiratory failure, stroke, and heart disease are discussed.
For thousands of years, ancient civilizations in Asia Minor have been cultivating the opium poppy.
This month's issue includes a cover story on determining admission or discharge for chest pain and articles on improving care of transgender patients, remaining on the alert for Middle East respiratory syndrome, and more.
Cases involving chest pain are presented.
Details on the latest recalls, warnings, and approvals.
Beta-blockers and mortality in afib and sepsis, corticosteroids in CAP, dual versus triple antiplatelet therapy, and more.
Unnecessary telemetry, CAP rates and causes, sepsis and acute kidney injury, and more.