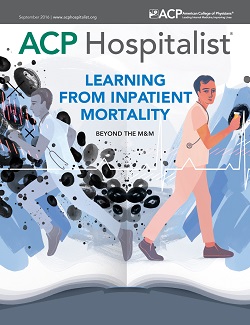 Hospitals review every death to flag problems, jump-start quality improvement.
Hospitalists discuss pros and cons of recertification option.
The science behind the superbug headlines.
Direct oral anticoagulation driving changes.
Two 24-bed general medicine units at the Johns Hopkins Hospital tackled inpatient mobility.
Principal diagnosis, secondary diagnoses, principal procedure, and present on admission are covered.
The first stethoscope was created with a rolled-up sheaf of papers in 1816.
This month's issue examines efforts to learn from inpatient mortality, the focused practice recertification pathway for hospital medicine, colistin resistance, and more.
Anaphylaxis to mammalian meat, rapidly progressive glomerulonephritis, typhoid fever, and more.
Details on the latest recalls, warnings, and approvals.
Bleeding risk score, lower blood pressure targets in cerebral hemorrhage, mobility after discharge, and more.
Readmissions and infection, earnings gaps, antimicrobial stewardship programs, and more.