Brief Case
|
September 13, 2023
|
FREE

Most ACP Hospitalist content is available exclusively to ACP Members. This article is free to the public.
Recurrent primary spontaneous pneumothorax
A patient with HIV presented with chest tightness and lightheadedness.
---
The patient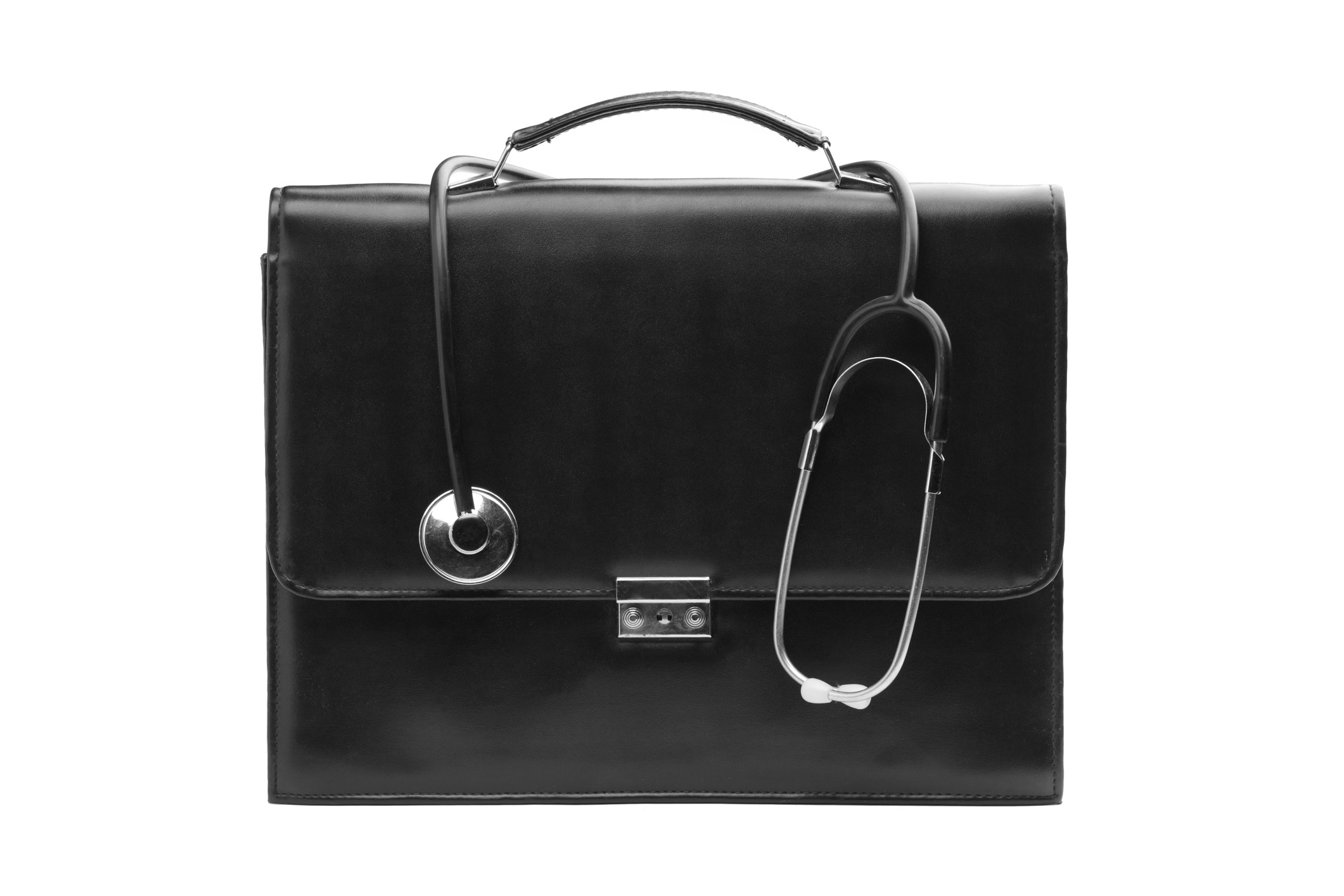 A 28-year-old man with HIV controlled with bictegravir, emtricitabine, and tenofovir-alafenamide (Biktarvy) presented with chest tightness associated with lightheadedness and shortness of breath. Symptoms began the night before presentation, and the patient reported hearing and feeling "crackling" with inspiration. He did not report any recent fevers, malaise, muscle aches, trauma, or heavy lifting. He had smoked four cigarettes per day for four years, but quit six years ago.
The patient had a similar presentation two months earlier during which he reported a three- to four-day history of dull chest pain without an obvious inciting event and was found to have a left-sided pneumothorax. A chest tube was placed at the time, and the patient was discharged a day later following lung re-expansion. A CT of the chest at the time did not reveal any obvious blebs.
On this presentation, the patient was hypoxic, with oxygen saturation of 80% on room air, and tachypneic but afebrile and otherwise hemodynamically stable. Physical exam revealed decreased breath sounds at the left lung base, without any signs of crepitus.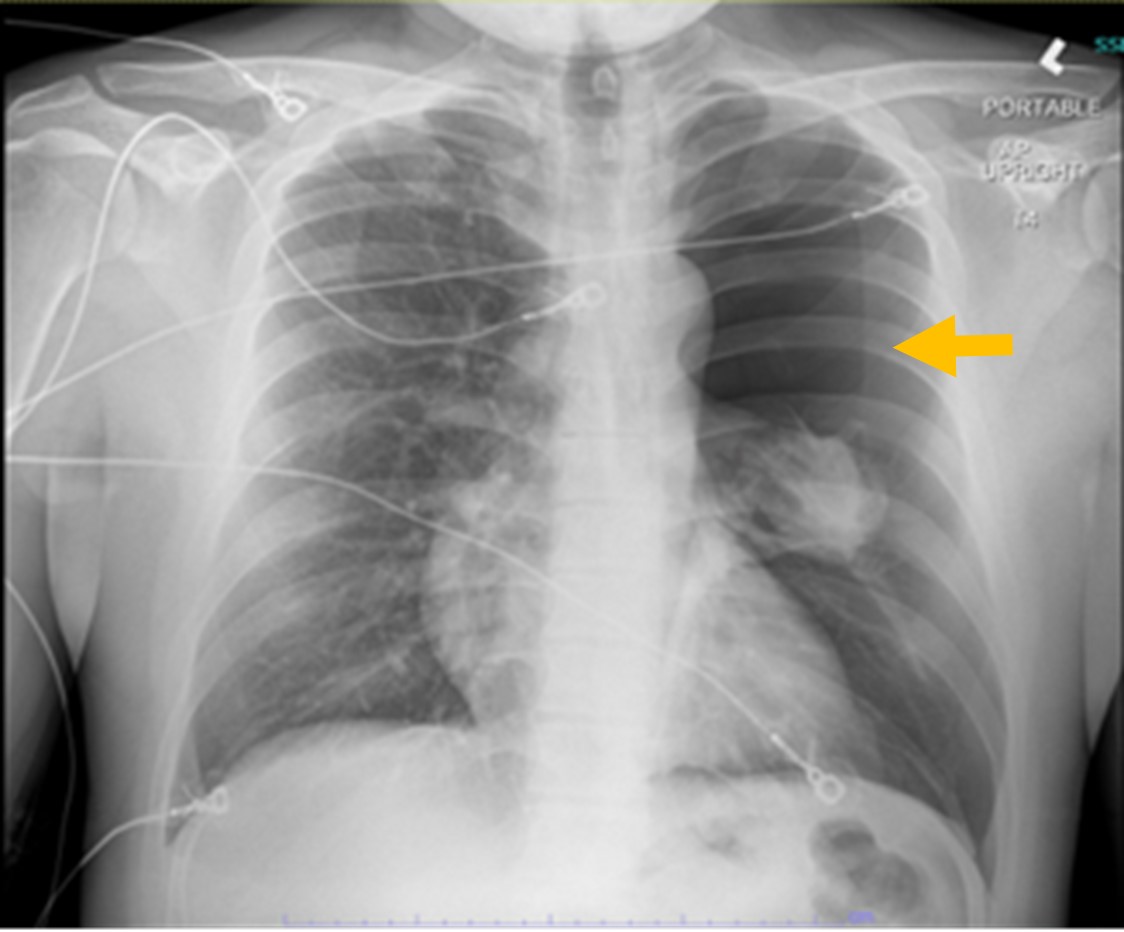 Complete blood count and complete metabolic panel were unchanged from the patient's baseline labs, a respiratory viral panel was negative, and the CD4 count was 1,480 cells/μL (reference range, 430 to 1,800 cells/μL). The patient stated that his viral load had been undetectable during a recent previous hospitalization. Chest X-ray revealed a large left-sided pneumothorax (Figure 1).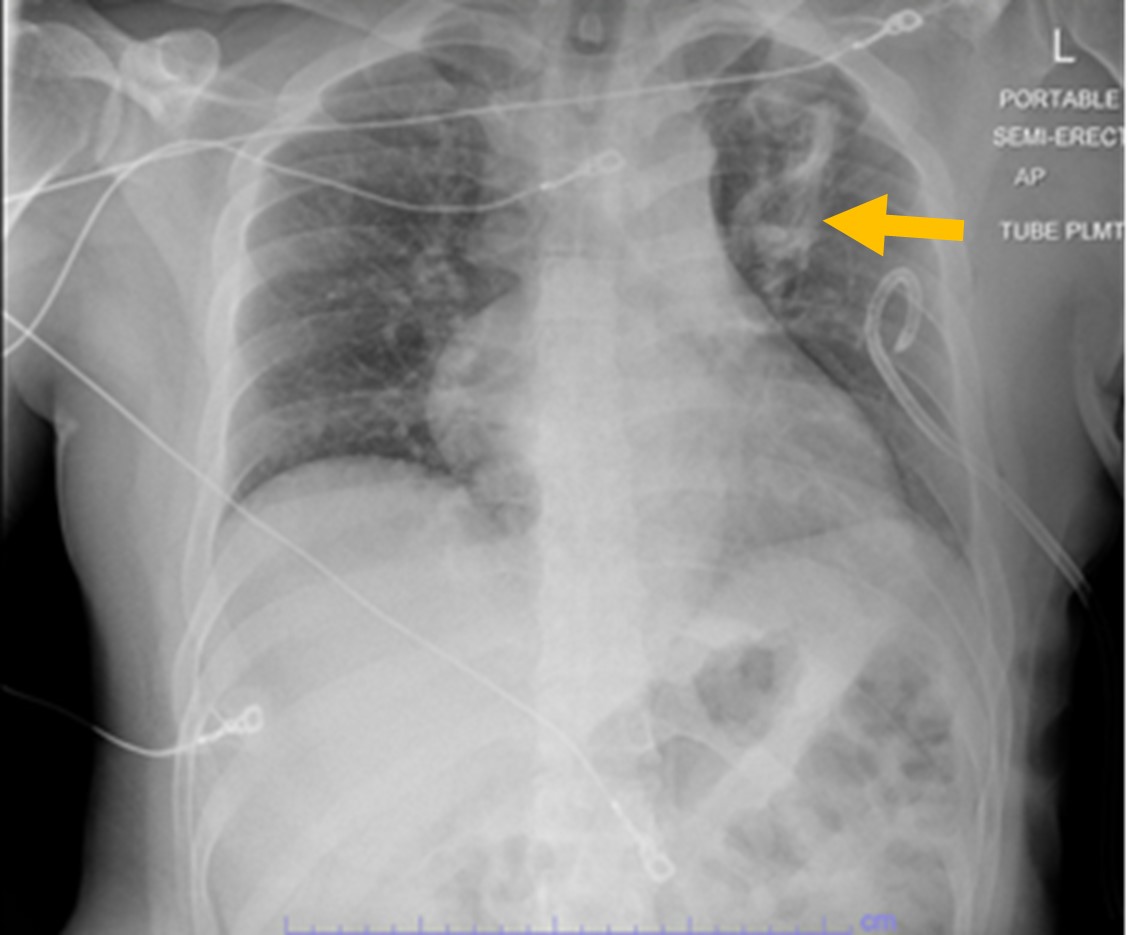 A non-rebreather mask and a pigtail chest tube were placed with resolution of pneumothorax (Figure 2).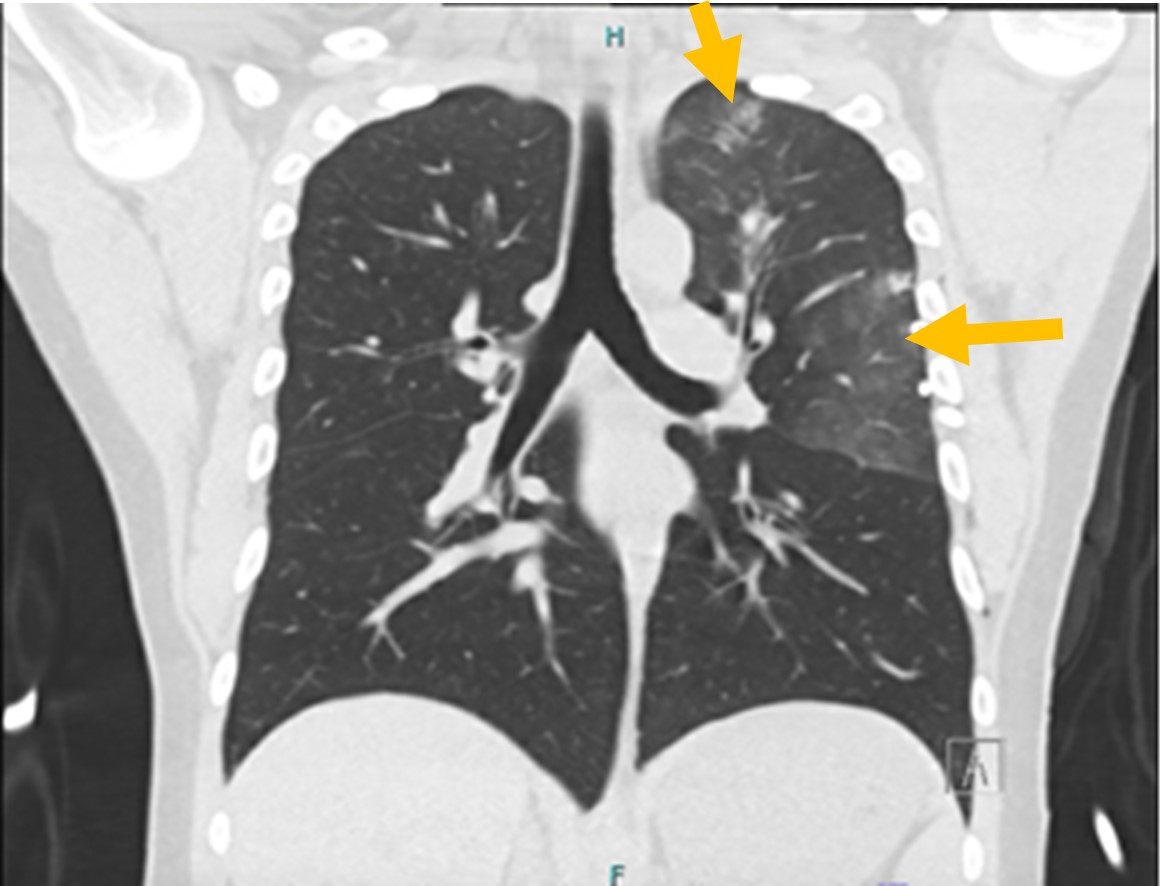 Daily serial chest X-rays were performed to monitor lung re-expansion. A CT of the chest revealed new peripherally distributed multifocal ground-glass opacities in the left lung without pulmonary cysts, which were thought to be either infectious or inflammatory (Figure 3).
Despite these new findings, the patient remained afebrile with stable oxygen saturation after chest tube placement. Given the patient's lack of leukocytosis and adequate CD4 cell count, an infectious workup was not pursued as an inflammatory process was deemed the more likely cause.
Due to the recurrent presentation of spontaneous pneumothorax with no obvious inciting factor, the patient underwent video-assisted thoracoscopic surgery and parietal pleurectomy with apical wedge resection. Pathology results revealed background emphysematous change with focal subpleural fibrosis and marked reactive changes. The patient tolerated the procedure well and was subsequently discharged.
The diagnosis
The diagnosis is primary spontaneous pneumothorax (PSP) of the left lung, a condition defined by a pneumothorax that occurs with no clear external precipitating factor or preexisting clinical lung pathology. The incidence of PSP in the United States is approximately 7 per 100,000 in men and 1 per 100,000 in women. Spontaneous pneumothorax occurs approximately 450 times more frequently in patients with AIDS than the general population. Recurrence incidence ranges from 25% to 50%, with most recurrence occurring within the first year.
PSP typically presents with dyspnea and sudden-onset chest pain in patients who are current or former smokers between the first and third decades of life. It is more commonly seen in men who exhibit tall, thin stature.
Diagnosis is based on a standard chest X-ray with absence of lung markings or displacement of the pleural line. More ambiguous cases can be evaluated through CT. Treatment of PSP varies depending on the size. For patients who are asymptomatic and stable with small (<15% of aspirated pleural air) pneumothorax, oxygen therapy is encouraged. For cases involving 15% to 30% of aspirated pleural air, simple aspiration with catheter or chest tubes can be used. For larger PSP (>30%) or recurrent attacks, chest tube drainage or video-assisted thoracoscopic surgery can be used.
It is important to consider pneumothorax as one of the etiologies of noncardiac chest pain since delayed or missed diagnoses can lead to rare but significant, life-threatening complications such as tension pneumothorax or cardiovascular compromise. PSP is particularly important to consider in patients with HIV, since such patients make up 2% to 5% of all incidences of spontaneous pneumothorax.
Pearls
Spontaneous pneumothorax occurs approximately 450 times more frequently in patients with AIDS than the general population and should always be considered as a potential cause of respiratory distress in HIV-positive patients.
Treatment of PSP varies depending on the size of the aspirated pleura air. Small pneumothorax can be treated with oxygen therapy, medium with simple aspiration with catheter or chest tubes, and large or recurrent attacks with chest tube drainage or thoracoscopic surgery.