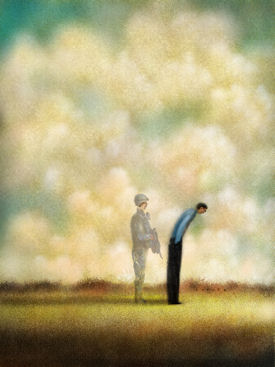 While the military screens soldiers leaving Iraq and Afghanistan for mental health problems at least twice within six months of returning from combat, PTSD can show up several months or years after a person leaves the battlefield. Internists in community and Veterans Affairs hospitals alike must be able to spot and treat PTSD in patients, even when the disorder isn't immediately apparent.
As combat casualties mount in Iraq and Afghanistan, hospitalists are beginning to see the mental health consequences of the wars here on the home front.
Caring for sexual minorities: Readers respond.
Discontinuing treatment: In hopeless cases, providers have a right to refuse to continue.
More hospitals employing physicians, survey finds.
Hospitals send unused supplies to needy facilities overseas.
Closed-loop system holds promise for in-hospital glucose control.
Which hospitalist model is right for you?.
An attorney offers tips on contract negotiation.
Carole Montgomery, ACP Member, has been a hospitalist since the early '90s.
Measure of the month: Heart failure.
Hospitalist doesn't hold back on blog about rural medicine.
Dozens of generic drugs recalled.
Recent studies about poor blood sugar control, predicting heart failure, and other topics.