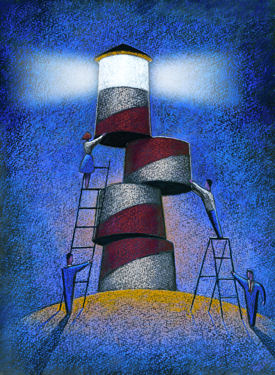 With no clear definition of surgical comanagement, it's no wonder that hospitalists disagree on which patients should be comanaged, how arrangements should be structured, and whether the whole movement toward comanagement is a boon or bane for hospitalists and their patients. Our cover story examines the concept and offers tips on making comanagement work for your group.
The discharge summary is a vital tool for transferring information between the hospitalist and primary care physician, but it isn't always given the priority it deserves.
Mike Hawkins, FACP, champions the hospitalist model.
Johns Hopkins Bayview Medical Center in Baltimore recently introduced a hospitalist-led bed management program in a successful attempt to improve emergency department wait times and decrease ambulance diversion hours. Find out how they did it.
Would you pass "the eyeball test" if the patient in this case study presented in your hospital's emergency department? Find out how one physician pressed for a better answer on a patient who presented with cardiac pain but no evidence of a heart attack.
Most hospitalists comanage surgical patients as part of their day-to-day responsibilities, but the hows, whens and whys of a comanagement relationship can vary from hospital to hospital and even from physician to physician.
Lori Mosca, ACP Member, explains how hospitalists can help reduce risk that runs in the family.
Nobody would want their child riding on an icy road at 70 miles per hour in a school bus driven by someone whose head keeps nodding. Similarly, who would want to be cared for by a physician who is so fatigued he can't remember the difference between the cranium and the cremaster?.
Physicians often use the term renal insufficiency to communicate the status of a patient's renal function, but this isn't enough when the medical record supports a more specific condition.
In accordance with a law passed by Congress late in 2006, physicians and other eligible professionals are able to receive bonus payments of a percentage (increased to 2%) of their total allowed Medicare charges, subject to a cap, by submitting information for defined quality measures.
Internal Medicine 2009 will offer a blend of the new and the established in its courses and activities.
A 42-year-old man is evaluated in the emergency department for a two-day history of fever, confusion, and abdominal pain... and other cases.
Recalls, advisories, and approvals.
Recent studies about hand-carried ultrasound devices, LDL levels, and other topics.
Medicare's proposal to expand coverage for PET scans, and other medical updates.
The American Lung Association State of Tobacco Control 2008 report graded the 50 states and District of Columbia on their anti-smoking efforts.