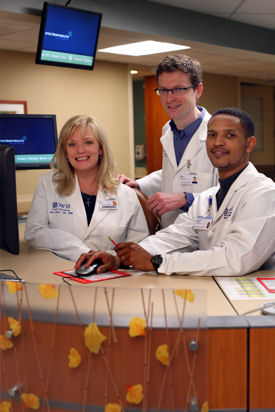 The very first thing a service needs to do before hiring midlevels is sit down to determine its goals and scope, then figure out the best way to staff for those goals.
Gaining the trust of new patients can be difficult for any physician, but for the hospitalist, it's a daily challenge. Establishing the rapport necessary for an effective therapeutic relationship requires effort and finely honed interpersonal skills.
There are many factors to consider when weighing a job offer, but most physicians tend to focus on two: Will I be happy working at this practice, and how much money am I going to make?.
Whether green and patient-friendly concepts actually do make for an ideal hospital room seems to be a matter of debate, depending on the priorities of the user.
With the demand for hospitalists high and busy practices stretched to the breaking point, midlevel practitioners may seem like an easy solution to recruitment woes. But do some careful planning before you place that "Help Wantedâ€ï¿½ ad, experts say.
Hospitalists continue to gain exposure and acceptance in the U.S. as well as in other parts of the world, including Australia, Europe and Brazil. We are very excited that now the vibrant Andean country of Colombia is jumping on board.
Distinguishing between stroke and TIA requires taking into consideration various definitions, including cerebral infarction, cerebral hemorrhage, aborted stroke, impending stroke and TIA.
In accordance with a law passed by Congress late in 2006, physicians and other eligible professionals are able to receive bonus payments of a percentage (increased to 2%) of their total allowed Medicare charges, subject to a cap, by submitting information for defined quality measures.
Tissue plasminogen activator (tPA) was the star of the show at this year's International Stroke Conference 2009 in San Diego, with much discussion of expanding its treatment window and several studies presented on gender differences in tPA treatment.
Stroke telemedicine has plenty of champions, but others think that a telephone system is better.
The following cases and commentary, which address ventricular tachycardia, are excerpted from ACP's Medical Knowledge Self-Assessment Program (MKSAP14).
Drug recalls, warnings, approvals.
New opioid therapy guidelines, and more.
Recent studies about norepinephrine use in septic shock, desmoteplase vs. placebo use in stroke, and other topics.
Health insurance is a major factor when people balance health care with its cost.