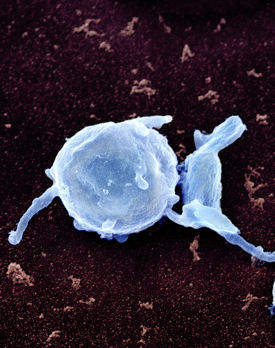 An expert hematologist explains how to recognize and treat heparin-induced thrombocytopenia, idiopathic thrombocytopenic purpura and thrombotic thrombocytopenic purpura.
Alternatives to warfarin will be available soon.
Recognizing and treating opioid dependence inside the hospital, and beyond.
What to do when patients present with acute coronary syndrome and gastrointestinal bleeding.
American slang is only one of many obstacles facing a new IMG.
Determining the floor plan of a hospital is usually the responsibility of an architect, but a recent study shows doctors should care about design, too.
Auckland City Hospital in New Zealand reduced medication errors due to inaccurate recording of patients' medications.
This issue features our coverage from Internal Medicine 2010, including stories on thrombocytopenia, concurrent GI bleeding and acute coronary syndrome, managing patients in opioid withdrawal, and more.
Our editorial advisor reports from the 16th National Portuguese Congress of Internal Medicine.
As medical students, we've heard the phrase "medical quality" thrown around quite a bit. It's reasonable to wonder what all the fuss is about, and how it applies at this stage in a physician's career.
Our columnist discusses "alarm fatigue.".
This case and commentary, which address thrombocytopenia, are excerpted from ACP's Medical Knowledge Self-Assessment Program (MKSAP15).
Drug recalls, warnings, approvals.
Guidelines on red blood cell transfusion, and more.