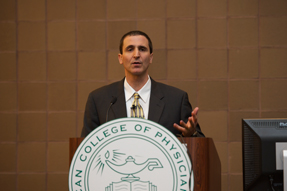 This report from the front lines of the war against microbes doesn't offer much good news.
MI and respiratory calculators can help manage perioperative risk.
One doctor's least-wanted list includes drugs that increase costs without improving care or raise the risk of antibiotic resistance.
Hepatitis A and Vibrio vulnificus are two potential dangers.
Nasogastric lavage might be the most egregious example, but there are plenty of others, one expert says.
Physicians in training should be assessed continuously, not just at the end of a rotation.
Supportive care is key to improving survival.
Physicians don't always identify patients at risk, especially in certain demographics.
Johns Hopkins Bayview Medical Center in Baltimore changed hospitalists' schedules to improve physician satisfaction and quality of care.
A study indicates that public reporting of hospital infection rates should note which were present on admission.
Acute pulmonary edema is a serious condition, but coding rules don't always give it its due.
Obtaining and applying genetic information can play a vital role in diagnosis and treatment.
This issue features extensive conference coverage from both Internal Medicine 2012 and Hospital Medicine 2012.
How can physicians properly frame risks and benefits of treatments so patients can make the best medical decisions?.
What's lost in accuracy will be more than compensated with personal time saved.
These cases and commentary, which address alcohol abuse, are excerpted from ACP's Medical Knowledge Self-Assessment Program (MKSAP15).
Details on approvals, recalls, warnings and more.
Neurological deficit and outcomes in mild stroke, cangrelor as potential bridging therapy in CABG, and more.
Dabigatran risks, C. diff, and more.