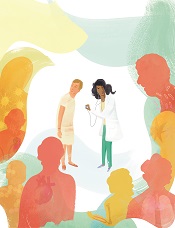 Creative scheduling and on-call systems prevent surges from spiraling out of control.
Evidence suggests malnutrition counteracts 'obesity paradox'.
Multidisciplinary effort can help reduce alarm fatigue.
Hospital assessment is key.
Most patients would like to wear pants during hospital stay.
What's required in content, timing, and format.
A tongue-in-cheek template for handling recommendation requests.
This month's issue includes articles on managing the census, watching for malnutrition in obese patients, and combating alarm fatigue.
Patient cases involving burns, nutrition, diarrhea after small-bowel resection, and more.
Details on the latest recalls, warnings, and approvals.
Nonprofit versus for-profit hospitals, corticosteroids in septic shock, pretreatment with P2Y12 inhibitors, and more.
Malpractice claims, fenoldopam after cardiac surgery in acute kidney injury, beta-lactams and community-acquired pneumonia, and more.