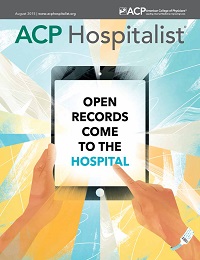 Hospitalists explore increasing inpatient access to medical records.
Experts discuss crisis of antimicrobial resistance.
Researchers analyze who, what, and when of follow-up care.
Outpatient treatment of pulmonary embolism on the rise.
An academic medical center implements a method to test and correct patients' vision.
The book's authors discuss the importance of high-value health care.
Part 2 of 2 about the coming transition.
Members of a hospital committee see each other in very different ways.
This month's issue includes a cover story on sharing patient records in the hospital, coverage on superbugs from BIO 2015, and articles on the post-discharge visit, outpatient PE treatment, and multisite hospitalist directors.
Cases involving high-value care are presented.
Details on the latest recalls, warnings, and approvals.
VTE prophylaxis in colorectal surgery patients, targeted perioperative intervention for Staphylococcus aureus infection, and more.
Guidelines on spontaneous intracerebral hemorrhage, hospital weekend services, low-risk chest pain patients, and more.
Expanding health systems offer new career path for hospitalists.