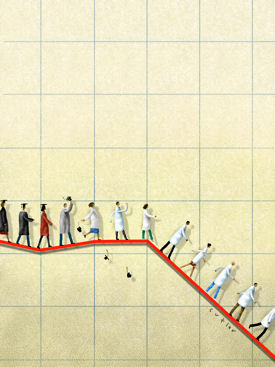 At teaching hospitals, the learning process restarts each summer. Does hospital quality dip at this crucial point?.
Physicians, hospital administrators and even politicians are eagerly searching for ways to reduce hospital readmissions. But one closely involved party isn't typically consulted: the patient.
Ignoring sleep apnea is done at the patient's peril.
Quick access to electronic information can be a big help to busy physicians and harried medical students alike, but both groups need to be very careful about which Internet resources they choose to consult.
ACP's director of clinical policy discusses a new guideline for intensive insulin therapy.
Two academic tertiary care medical centers begin mobilization early in mechanically ventilated ICU patients.
Doctors are more likely to make attribution errors when patients fit a negative stereotype. This case involves a patient who was doing everything "right.".
Learn how to create an inexpensive model for ophthalmoscopic examination simulation.
This issue examines the "July effect," readmission prevention, blood glucose management, and more.
I came to an agreement with the medical students on service with me: We would spend our week "elevator-free.".
It starts with someone tapping you on the shoulder and looking from side to side during your second year of residency. "Psst!" they say. "I need to talk to you in confidence.".
A recently released blueprint provides a glimpse into the next decade of genomics research.
A patient's body mass index can have a profound effect on the complexity of care and the risks of complications, morbidity and mortality.
One of the unique aspects of education in the hospital setting is the nature of those being coached.
An aging population requiring invasive vascular imaging and procedures is at increased risk for this syndrome. Learn how to recognize it.
These cases and commentary, which address insulin management, are excerpted from ACP's Medical Knowledge Self-Assessment Program (MKSAP15).
Details on a recall of sterile and non-sterile alcohol prep pads, alcohol swabs, and alcohol swabsticks, and more.
Bedside tool to predict in-hospital death after stroke, and more.
Hospitalist-neurosurgery comanagement, and more.