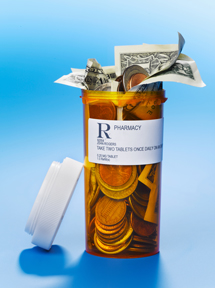 Leading an antibiotic stewardship program is within the reach of hospitalists at even the smallest community hospitals.
After establishing rapid response systems, hospitals must follow through by measuring their effectiveness.
Ultrasound images, formerly only available from machines weighing hundreds of pounds and costing hundreds of thousands of dollars, can now be viewed on devices significantly smaller in both size and price.
Speakers at the recent National Palliative Care Summit discussed strategies for changing and improving Americans' perceptions of palliative care.
Physicians not only overestimate prognosis, many consciously present a more optimistic prognosis to patients than they privately believe.
A new study shows that payment rates vary widely from private insurers to hospitals. The president of the Center for Studying Health System Change talks to ACP Hospitalist about possible causes and solutions.
Denver Health Medical Center's complex discharge committee helps find creative dispositions for patients who are medically ready for discharge but, for many reasons, unable to leave the hospital.
This issue examines antibiotic stewardship programs, rapid response systems, pocket ultrasounds, and more.
Like a conscientious physician, hospitalists must play doctor to their own facilities.
Some days, dealing with patients feels like a boxing match.
How many soccer games have you missed because of your work schedule? How often has your spouse had to eat dinner without you?.
The clinical distinction between community-acquired pneumonia and health care-associated pneumonia is crucial for correct management and antibiotic selection.
Attendings should advocate that their time be protected to ensure that they can fulfill their primary responsibilities during the rotation: patient care and education.
These cases and commentary, which address antibiotics, are excerpted from ACP's Medical Knowledge Self-Assessment Program (MKSAP15).
Restrictive transfusions, hospice care use, and more.
Antibiotic therapy and sepsis, reductions in MRSA infections after surgery, and more.