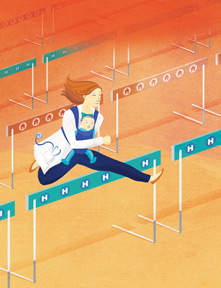 Hospitalist moms offer advice and anecdotes on how they achieved balance without feeling like they gave up too much in their career or family life.
Knowing your value and preparing for an ambush are two key secret weapons.
Algorithms could be used in assessing safety and quality of care.
An understanding of reimbursement, safety and quality issues makes hospitalists a good fit for the job.
Cincinnati Children's Hospital Medical Center initiative targeted pneumonia treatment.
Learning how to receive a handoff is as important as learning to how to send one.
Physician documentation can affect a hospital's value-based purchasing score##mdash;and thus, its bottom line.
Safety##mdash;in the hospital and in life##mdash;is about more than following prescribed systems.
This month's issue includes stories on women balancing hospital medicine careers and family, negotiation skills, hospitalists as physician advisors, mortality risk prediction, and evaluating handoffs, among others.
These cases and commentary, which address antibiotics, are excerpted from ACP's Medical Knowledge Self-Assessment Program (MKSAP16).
Details on recalls, warnings and label changes.
HIV screening recommendations, perioperative SSRI risks, anticoagulants and endocarditis, and more.
Imaging in heart failure, preventing hypoglycemia, and more.